CPE Bach - Hamburger Sonata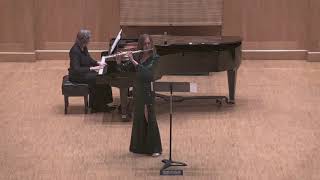 Irene Britton Smith - Sonata for violin and piano, arr. for flute
Pierre Sancan - Sonatine for flute and piano
Jakob terVeldhuis - Lipstick for alto flute and electronics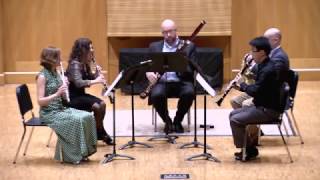 Mohammed Fairouz - Mar Chabel's Dabkeh from Jebel Lebnan -
CPE Bach - Hamburger Sonata

Bright and airy, this piece brings me great joy to play because of its playful twists and turns.

Irene Britton Smith - Sonata for violin and piano, arr. for flute

Although written for the violin originally, this sonata works incredibly well on flute with only few alterations for register. The middle movement particularly provides a beautiful opportunity to explore the many tone colors of the flute.

Pierre Sancan - Sonatine for flute and piano

This Sonatine by Sancan is one of my favorite pieces of the French flute repertoire. Performing the opening is like trying to put into sound the feeling of gentle waves in the water and the ending is a cross between a whirling dervish and a vaudeville act!

Jakob terVeldhuis - Lipstick for alto flute and electronics

When I first heard this piece performed, I was so taken by its groove and seamless interaction with the electronic track. I particularly love the low sultriness of the alto flute (it's like the Kathleen Turner of flute!) and the game it plays with the track.

Mohammed Fairouz - Mar Chabel's Dabkeh from Jebel Lebnan -

One of the great perks of my job is to play with the storied Lieurance Quintet. This piece was new for the quintet and I have fond memories of exploring the shapes of phrases, as well as the particular sound of the "Ney" flute.

Fairouz says the piece "chronicles events from the Lebanese Civil War (1975-1990) and [its] effect on the current face of Lebanon. ... The final movement, called Mar Charbel's Dabkeh, is an Arabic round dance. This is mostly lyrical music and embodies the concepts of simple song and melody so cherished in the Arab World. It invokes the spirit of Mar Charbel, Lebanon's Patron Saint."